Abandoned children, South Africa's dirty little secret
Posted by Robyn in News articles on 29 July, 2015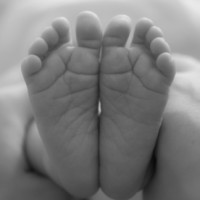 by Robyn Wolfson Vorster
Around 3,500 children are abandoned in South Africa annually. News of yet another child found dead or left in a precarious position elicits strong public condemnation and emotion. Public consensus on the issue of child abandonment generally provokes a knee-jerk response to blame and demonise mothers. But despite our deeply felt beliefs, research has indicated that while abandonment affects individuals, it is often as a result of wider socio-economic factors and ultimately, politics.
Zanele's baby was born two days before her sixteenth birthday. By then, the man who had impregnated her was long gone. Thirty years her senior and married, he seemed unperturbed by the fact that she was underage. He had seduced her, not as many would assume with jewellery or clothes but simply with the promise of safe transportation to and from school. They did not use contraception; he wouldn't and rejected her attempts to do so, stating that it made her "taste bad".
Not even the pregnancy had dismayed him. But he had been furious when, fearing judgement and infertility from her ancestors, she had rejected the idea of an abortion. It was the end of the relationship. At 15, she was pregnant and all alone. Her mother had passed away when she was three, her father was unknown and the aunt who claimed the foster care grant for her and her five siblings was distant and abusive. Her only other relative, a grandmother in her home town, was already caring for four grandchildren. Zanele feared that the shame of a baby would make her aunt cast her out and then, without support, how would she raise a baby and still finish her schooling?
In the end she sought help at a clinic in another town. The nurse lectured her for her stupidity at falling pregnant and warned her that she has no other option but to raise the baby. When she asked tentatively about adoption, the nurse told her that her ancestors would not forgive her for letting anyone outside of her family take the child, or change its identity, and that since she was underage, she would need parental consent for adoption anyway. Before Zanele left, feeling humiliated and vulnerable, the nurse told her not to consider leaving her baby at the clinic – "if you do, the security will come and find you" she laughed.
When the contractions began Zanele left school early, travelling alone with a pair of scissors and a plastic bag.The child, a boy, was born in an open field. She cut the umbilical cord, put him in the bag and placed him in a dustbin. In her confusion and fear, she told herself that one day she would return to claim him. She didn't look back.
The next day, the newspapers trumpeted the story of a newborn left in a dustbin in Thembisa… Read more
Picture by: http://www.freedigitalphotos.net/