The aftermath of child abandonment
Posted by Robyn in Child protection, Opinion pieces on 10 Jul, 2017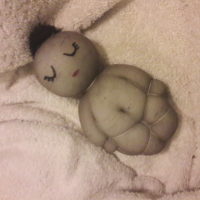 There are very few stories told about how it feels to be abandoned at birth.  It makes Sindi's amazing account of being aborted and abandoned when her mother was six months pregnant even more powerful. Miraculously, she survived her abandonment, and is now in her 40s.
Despite her prematurity and a very unsettled childhood, where she was moved from one family to the next, Sindi went on to get a tertiary education and has dedicated her life to helping others who have no hope.
She asked that her face be hidden in this video, not because she is ashamed of her birth story, but because she didn't want to shame the birth mother who she knows, but who has never apologised to her or acknowledged her as a daughter.  But 43 years after the event, her pain is still evident in her hands as she tells her story of being aborted (successfully after her mother had failed on previous occasions), and left to die on the floor of a public toilet at a local hospital.