Dear Innocents, we failed you
Posted by Robyn in Child protection, Opinion pieces on 17 Dec, 2015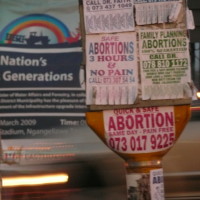 by Robyn Wolfson Vorster
An open letter to aborted twin girls.
Dear Innocents,
Today could have been your birthday.  Instead it marks a month since your mother aborted you, placed you in a plastic bag and left you under a "safe abortions" sign.
Now I think about you every day.  So many questions remain unanswered:
Why did your mother wait until she was eight months pregnant before deciding to end your lives?
What made her suddenly give up?
Did the abortion drug kill you (it doesn't kill the majority of babies at such a late stage of development), or were you born alive?
Did she cry when she delivered you? What about when she put you in the plastic bag?
As your life ended, did it comfort you to feel your sister's body next to yours as you had in the womb?
They are questions I will never be able to answer.  What I do know is that we failed you.
We failed you because we allowed your mother to live in poverty, desperation and violence.
We failed you because we didn't let her know that she had options: that she didn't have to abort you, that there were arms aching to hold you–arms that ache still.
We failed you because we have allowed the stigma of adoption to remain unchallenged.
We failed you because your mother was not legally permitted to abandon you safely.
We failed you because we didn't police the people who illegally sold your mother the abortion drug, because they are allowed to carry out "safe abortions" with impunity—safe for whom, I ask?
We failed you because if you died in the womb (even on the cusp of birth), our law says you were not a person and that you have no legal rights.
We failed you because if you were born alive no one will ever know or care: forensic pathology services will list you as a "stillbirth" even though you took a breath, and the police will not classify you as a murder statistic or investigate your "unnatural death".
We failed you because no one will be prosecuted for your death: not your mother (if she is charged at all, it will only be for concealment of birth and so far, only one person has been prosecuted for that crime).  Nor the abortion practitioners (in our law, they are guilty of illegally dispensing medicine, not, apparently, for your death).
Above all, we failed you because our government (tasked with your care and protection) turned a blind eye to illegal abortion and abandonment, and does so still.
Dear innocents, we failed you and nothing we do can bring you back.  But, your death did not pass unnoticed little ones.  We failed you but we cannot continue to fail the many others that will follow after you.  Next time we must do better.  If so, maybe your senseless deaths will finally have some meaning.