Babies not for sale. Or are they?
Posted by Robyn in News articles on 19 Apr, 2015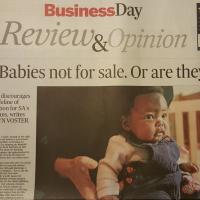 By Robyn Wolfson Vorster IT WAS a shock, turning on the radio recently and hearing a government official publicly questioning my motives for adopting my beautiful daughter. In an interview on Talk Radio 702 about the declining number of adoptions, the spokeswoman for the Department of Social Development declared defensively that "our babies aren't for sale". The statement came days after our family finally concluded our long and arduous adoption process. Although dismaying, it didn't come as a surprise — for us, the last three-and-a-half years have been characterised by a battle against the government's hostility towards adoption. While officials cite fear about trafficking as a reason for their adoption obstacles, millions of South African orphans are significantly more vulnerable to trafficking, poverty, abuse and neglect than my little girl. We are fiddling while Rome burns…
Across the globe, adoption is seen as necessary and socially beneficial, a permanent way of taking care of the world's 153 million most defenceless children.  South Africa seems to be a notable exception.  Here, adoption is viewed with suspicion and in some senses it is considered to be un-African.   A nuclear family that does not respect the child's origins is seen as no substitute for authentic community. The communal raising of vulnerable children is a valuable thing. But the flip side is that anyone wanting to care for a child in a way that removes him from his kin and culture, and legally and permanently changes his identity, is seen in a negative light. This affects the chances of many children being adopted, even when that identify, kin and culture are actually unknown.  It explains why even though adoption is legal and apparently accepted in this country, Government seems to ascribe evil intent to anyone who attempts to adopt—hence the "babies for sale" allegation and the highly adversarial process.
Over the last three and a half years, my husband and I have been vetted by social workers, psychologists, doctors, the police, the courts and of course government officials. We have been checked to see if we have a police record, if we are on the Sexual Offences register, if we are psychologically and physically well, if our marriage is in good shape, and if we are financially able to afford adoption.  We have opened our lives, health, finances, history, relationship and mental state to an astonishing amount of scrutiny, and all at great expense.  But let me clarify, we did not pay money to buy a baby.  Instead, we paid for all of the professional services required to approve us for adoption, we paid to ensure that our child was adoptable, we paid for the legal process of having the relationship confirmed and we paid to have our child's legal status changed.  Not that, I am complaining, like most adoptive parents, my view is that no matter how hard, combative and costly the process, I would do it all again—and  more—for the joy of having my child. I say this simply because I find myself asking:
If you wanted to traffic children, why would you join what must be one of the most highly monitored groups of people in the whole of South Africa and accept the wait and costs involved?   
Why indeed, especially since the United Nations Children's Fund (UNICEF) estimates that South Africa is now home to  more than 3 million orphans (either single orphans—who have lost one parent, or double orphans—who have lost both parents).  It is these children that the agency considers to be particularly vulnerable to abuse and trafficking.   
Government policy suggests a longing for a utopia that no longer exists because communal care is becoming less financially or practically viable. The reality is that traditional extended families and communities have been decimated.
"Kinship" relationships underpinned by the notion of Ubuntu are still presumed to be keeping our children safe, but AIDS, poverty, urbanisation and the dispersal of families that comes with it are dooming many children to institutional care, or leaving them out in the cold, as long as adoption is discouraged.  
While it clings to a traditional system, government is placing communal care on a pedestal at the expense of the children who will be better off adopted, as well as society as a whole. In support of this policy, it offers community caregivers the Foster Care Grant.  This grant was never intended to be used for large numbers of children or to combat poverty, but it has now become something of an incentive, and one that discourages legal adoption.
-The Foster Care Grant differs from other poverty alleviation grants in some important respects.  Firstly, it is not means tested.  Provided the child being cared for is poor, you can receive the grant regardless of whether you earn R200 or R200 000 per month.  Secondly, it is a particularly large grant (at R860 per month it is more than two and a half times the Child Care Grant of R330 . And, an emergency grant designed for  short term interventions in crisis situations, it was designed to be paired with close and careful monitoring of the recipients.  but, given that there are now more than 600 000 South Africans receiving the grant due to the mass of recipients,  monitoring is negligible and, in some cases, non-existent.
The grant is expensive, resource intensive (as it needs to be renewed every two years) and bizarrely, carries the inherent assumption that orphans are two and a half times more expensive to care for than any other South African children.  Yet, it remains the default grant for people caring for orphans.  Advocacy groups have called for Government to implement a means-tested "kinship grant" to both relieve the pressure on the foster care system, and pay and oversee caregivers in a way that is more equitable and manageable, but thus far this has fallen on deaf ears.
It is hard to miss the irony—some people are benefiting monetarily from our orphans, but it is not adoptive parents.  While many caregivers have good intentions, so many cannot be effectively monitored, that the policy puts the very children it is supposed to protect at high risk.
And what about abandoned children. Who will raise them if adoption is not an accepted solution?
Accepting that some communities are more committed and capable of caring for orphans than others,  Government's approach might not be quite so concerning if  if it catered for the estimated 3500 children abandoned annually, far away from their extended families and community.  This may be a gross underestimation because government has commissioned little research to investigate the numbers.   If officials are privately anti-adoption, what hope is there for these children who have been so tragically labelled "weggooi kinders"?  Without a community or family support and without the possibility of adoption, they are doomed to institutional care.
Society has changed and South Africa's strategy for coping with orphans is simply not working.  If it was, we would not have 3 million children deemed vulnerable to abuse and trafficking, we would have a plan for dealing with abandoned children and we would not need to financially incentivise community-based care for unparented children in a way that may result in the collapse of the foster care system.  Hindering adoption is simply not going to restore traditional African culture or reinstate universal, altruistic kinship care. In addition it may open my black child, raised in a while family, to abuse, and prejudice those who want to be part of the solution.
Thlabi asked the spokesperson for the Department of Social Development, Lumka Oliphant, to provide proof that adoptive parents are guilty of trafficking, or are in it for personal gain. I have not heard anything since. Government either needs to prove that adoptive parents are benefitting financially from the process and act accordingly, or it needs to back down, make the process less adversarial and start viewing adoptive parents for what they should be—partners in giving our children hope and a future.
This content was originally published by Business Day.