Black, not like me. Questioning transracial adoption.
Posted by Robyn in Articles on adoption on 22 Apr, 2015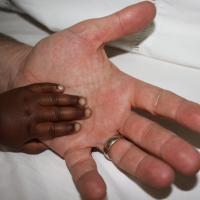 By Robyn Wolfson Vorster
I saw a beautiful adoption picture this morning.  It was of a mom and dad, each kissing a cheek of a gorgeous baby. The caption read: "When God made her, he had us in mind." It was compelling. I found myself looking at it for a long time, enjoying the words, and wondering if I should share it on social media before it dawned on me that as lovely as it was, it was an image of adoption that I no longer found familiar—the child in the picture was white, just like her adoptive parents.
It wasn't always true, I still remember my reaction and depth of sadness when, during our adoption screening process, I read an article on adoption and came face to face with a number of images of white families cuddling white adoptive children (which, despite any statistics to the contrary, were still the norm in the media until recently). The emotion, while intense, turned out to be short lived. When our social worker, unexpectedly ended our final session by asking if we would accept a white child, I was able to say with certainty that she should rather place the child with someone desperate for a same race adoption. I still wonder why she asked (our agency doesn't even place white children). Regardless, it was a defining moment. In that instant, I knew beyond question that transracial adoption was our first choice, not just our only choice.
Nonetheless, I still find myself occasionally thinking about that moment and in trying to understand why this issue is so emotive and why so few people adopt transracially, it is a memory that I draw on.   Perhaps in order to understand why people do adopt black children it is helpful to first ask why they don't.
Why are people reluctant to adopt transracially?
I have questioned loads of people and came up with two key reasons why some families avoid transracial adoption:
Stigma and identity (the deep seated desire to have a child that looks like them, anxiety about their child's identity as a teenager and adult, and concerns about the stigma of adoption).
Fear and prejudice (sometimes those of the adoptive parents but often from other people in their inner circle).
Stigma and identity
Historically, stigma has been a huge factor. Growing up, one of my close friends was adopted and her perception was that she was matched to her adoptive family predominantly on the basis of looks. It was back in the day when the Government prohibited trans-racial adoption and it appears that this obsession with being with people like you extended to adoption. This may have been largely about identity but it also spoke of a deep seated reluctance to bring unrelated children into the family. After years of infertility, my aunt and uncle told my grandparents that they were considering adoption. Their reaction was swift and merciless, that no adopted child would inherit anything from them. Perhaps they would have reconsidered but I suspect that their obsession with "genetic purity" would have stopped them from loving an adopted child. Sadly, my aunt and uncle didn't find out—they abandoned their plans and remained childless.
Careful matching meant that in many cases, children didn't even know they were adopted. Years ago I watched an episode of the brilliant sitcom "Friends" in which one of the characters inadvertently told a small boy that he was adopted. It made an impression on me both because of the exquisite awkwardness of the situation—it made me squirm—and because my brother and I had apparently done the same thing when we were children. It never occurred to us that our seven year old friend didn't know he was adopted or that we had been the first to tell him. It is a painful memory, especially now that I understand what his parent's unwillingness to share his adoptive status must have done to him.
I would love to say that the stigma is long gone but sadly, there is still a lot of prejudice about adoption. Many people feel that it is easier to just avoid public acknowledgement. Looking the same goes a long way to helping you avoid the scrutiny of strangers and the need to have the adoption discussion so often and so openly with your child.
And, identity goes even deeper. Many families, especially those that have come to adoption via a long hard journey with infertility, are desperate to adopt a child that looks like them. When you speak to people who have given up on fertility treatment, one of their biggest areas of grief is that they will never have a child with their looks, mannerisms and abilities. Some people find it very hard to get over.
Fear and prejudice
In a country like South Africa, fear and prejudice is almost self-explanatory. Even families that are comfortable with the thought of adopting a black child are sometimes tormented by concerns about how their family's and society's fears will affect an innocent child. The anxieties vary from family to family (everything from grandparents rejecting the child to bullying from people outside the family). And for many, the biggest fear is that they will not be able to love a child that is black. Regardless, the result is usually the same, a reluctance to risk trans-racial adoption. Even families that do go on to adopt black children speak about having to overcome some or all of these fears, prejudices and identity challenges first.
How South Africa's demographics affect adoption
Irrespective of their position, most families determined to adopt will at some point have to come to terms with the way that South Africa's demographics affect our adoption process. The reality is that there are huge numbers of black children in need of adoption and very few of any other race. The situation is so extreme that if you are looking to adopt a same race baby and are not a black family, there is a strong possibility that you will not even be accepted by an adoption agency for screening. Fewer agencies are trying to place white children and those that do have very long waiting lists. Couples that are older, single parents, and families with existing children looking to grow their family through adoption are particularly unlikely to be accepted. And although some private social workers are still willing and able to place white, coloured and Indian children, many of the families accepted onto a waiting list are told that they may have to wait up to eight years for a child (although even then, the timing is not a certainty). The ones that are eventually matched have little choice about the child they receive. Same race children for families that aren't black are so rare that it is almost impossible to specify criteria like gender, age or health (something which families adopting transracially are encouraged to do). In the end, given that you cannot adopt internationally if you are South African, the choice to adopt a black child may be the difference between becoming a parent, or not.
This scarcity is the reason that many families have changed their minds about adopting transracially mid-adoption process. Looking in from the outside, it may be easy to say that those families are compromising in some way by altering their position. Interestingly, they disagree.   None that I spoke to had any regrets about choosing to parent a black child and many stated how amazing the experience has been. The truth is that we all come to adoption differently and in many cases, the journey we take is essential to prepare us for our lives together.
The case for transracial adoption
Increasingly, adopting a black child is the first choice for many families that aren't black. I asked around and the reasons for adopting transracially were as varied as the families that told the stories. For some, adoption, and specifically the adoption of a black child, had been a lifelong dream. Others said that they just wanted a child, any child—race was not an issue for them. And still others fell in love with a child who just happened to be black. Finally, there are some families (although not as many as people suspect) whose decision to adopt was as much about social justice as about building a family. In all of these cases, transracial adoption was an easy choice.
Our story
Our own journey contains many of these elements. For us, years spent battling with infertility meant that we had to fully mourn the loss of a biological child who "looked like us" before we moved on to adoption. By the time our daughter arrived, I was reconciled to having a child that "was like us" instead. Oddly, being a step-parent really helped. I have two beautiful step-daughters who were raised by their mum. They look like me (in the same way that a white adopted baby would—they have the same skin colour) but they don't share any of my mannerisms, my sense of humour, my inflections, my approach to the world. Astonishingly, at the age of three, my adopted daughter is far more like me in every way than they are. And despite the difference in our skin colour, people say that she looks like me, and our biological son. Actually, they are right, when we are together, we are so obviously a family. Of course, if we had adopted any child of any skin colour our experience would probably have been the same and maybe that is my point—love makes a family and nurture is profound.
While I don't dispute the challenges she may have to face being a black child in a white family, our daughter's identity has been a source of wonder for us. One of the big myths about transracial adoption is that we love our children despite them being black. An adoptive mom recently described how a friend had said: "well I guess you don't see her as black any more". She was dumbfounded and I can relate. I will never think that my daughter as anything other than black, but instead of seeing that as something negative to be overcome, we see the colour of her skin as one of the many things that make her special.
At first, my husband wrestled with the fear that he might not be able to protect his daughter from the prejudice of others. But, it was short-lived. The thought of leaving a helpless child to be raised in an institution, without a family, was so appalling that it was inconceivable for him to allow his fears to get in the way of the adoption.
And our family was very supportive. Our prejudiced grandparents are long gone and even if they weren't, we are optimistic that our love for our child, and the delightfulness of our daughter (she has a real talent for engaging with people and making them feel special) would have challenged even the most dearly held intolerances. As far as others are concerned, it seems that all children (not just those adopted transracially) are doomed to being teased and misunderstood at times. After almost three years, we are yet to experience it personally but it may come and if it does, I am hopeful that our child will be secure and loved enough to be able to deal with it.
Realistically, even if our family had wanted to adopt a white child, it would have been extremely unlikely. We were older adoptees (40, and over in the case of my husband) with a biological child. We would not have been accepted by an agency and our best option for a same race adoption would have been to find a birth mother who wanted us to raise her baby (something I was terrified of doing because of the prevalence of adoption scams targeting desperate people at their most vulnerable). I am grateful that it wasn't a desire for us, anecdotal evidence suggests that if it had been, we might still be a one child family.
But in the end, none of these factors were pivotal for us. Despite my brief wobble early on, I knew from the start that my daughter would grow in another woman's womb and that she would be black—that was God's plan for us. Maybe that is why I find it so hard to explain to others, it wasn't about the absence of a negative or even pragmatism, we adopted Asha because we knew with a certainty that the daughter meant for us was black. Adopting her was the most natural, most wonderful, most beautiful thing imaginable.
In some ways I wish I had more of a persuasive argument, a story of a big heart transformation that I could talk about. I wish for it because in my heart of hearts I want people who are closed to transracial adoption to reconsider—for no other reason than that there are so many children—mostly black—in need of families; and so many families—mostly white, coloured and Indian—in need of children, and I wish that they would find each other. It also breaks my heart that some families will be forced to choose between a same race child and no child at all.
Coming full circle, the adoption image
Adopting Asha was perfectly right for us, and she is perfect—perfectly made and perfectly ours. Since meeting my daughter, this image of adoption–as beautiful as it is–doesn't make me sad anymore: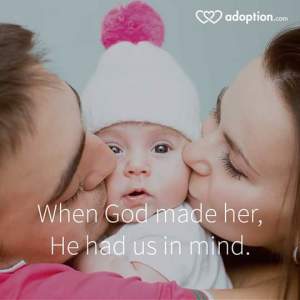 That is their story.  This, gloriously, is ours…