Child abandonment in SA: hidden & heart-breaking
Posted by Robyn in Child protection, News articles on 22 Jul, 2016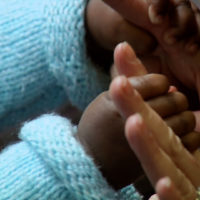 by Robyn Wolfson Vorster
Despite the occasional headline, child abandonment in South Africa remains largely unreported.  The little we do know reveals that it is both shockingly prevalent, and deadly.  So why is it so wide-spread and what can be done to prevent it, or at the least, minimise its impact?
In the absence of comprehensive government-led research, it is hard to obtain an accurate picture of the extent and impact of child abandonment in South Africa. But, what we do know is deeply troubling:
It is commonly cited that about 3500 children are abandoned annually (approximately 300 per month) but that figure only includes survivors. The total number of abandonments is far higher.  Estimates are that only one third of abandoned children survive, and in Gauteng for example, for every abandoned child found alive, two are found dead.
For this reason, a recent Medical Research Council study on child homicide reveals that children in South Africa are at the highest risk of being killed in the first six days of life.
Research shows that 65% of abandoned children are newborns, and 90% are under the age of one.
A large number of babies have already survived a late-term abortion prior to being abandoned. 52-58% of South Africa's abortions are illegal (up to 150 000 per annum), and in Gauteng, studies indicate that up to half of these abortions (which are seldom policed, and often unsuccessful) take place in the third trimester.
70% of abandonments are .
Many abandoned babies are never found.
Safe abandonment is illegal in South Africa so all of the country's baby safes operate unlawfully.
Girls under the age of 18 can consent to an abortion, but cannot place a child for adoption without a guardian's consent.
Foreigners risk deportation if they try to place a child for adoption.
Abandonment is no longer listed as a violent crime in South Africa, or included in crime statistics. Nor is it listed as a cause of death in South African mortuaries. There is therefore no accurate tally of how many children die as a result of abandonment.
To date, no formal research has been completed by the government to track abandonment, and no measures put in place to counter it.
Given the nature of abandonment, it is easy and obvious to blame birth mothers.  But, studies show that abandonment most frequently results from [read more]