Fearing the foreigner: When child protection and institutionalised xenophobia collide
Posted by Robyn in Child protection, News articles on 21 Jul, 2016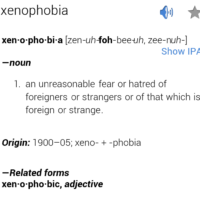 by Robyn Wolfson Vorster
Adoption, like all child protection initiatives, is predicated on the principle of "the best interests of the child". Except when it isn't. In some significant matters, government agenda has overridden this tenet, at times with disastrous and even tragic consequences. One of the areas where this is most evident is "foreigners": foreigners resident in South Africa who want to adopt, and children born in South Africa to foreign parents. New and increasingly aggressive policy regarding foreigners may result in large numbers of children being made unadoptable, and possibly stateless, others left in limbo without a name and nationality, and others exposed to significant psychological and physical harm. So why is the government pursuing this approach, which according to some amounts to institutionalised xenophobia, and what will happen to the large numbers of children caught in the cross-hairs?
Kate* sits across from me, twists the piece of paper in her hand over and over and then slams it down on the table with exasperation. For an adoptive parent like myself, seeing an adoption order treated this way is shocking. I treasure mine, and years later am still moved by the profundity of the words: "Your child is now for all purposes regarded as your child, as if born to you…". Who could fail to be touched by that? The answer, sadly, is an adoptive mother of a child deemed by Home Affairs to be a foreigner. Quite simply put, it is hard to value a document that Home Affairs will not honour.
Her anger seems justified. After all, this family have been scrupulous in their adoption process. They were properly vetted, screened and approved, their son's biological mom signed consent at court for him to be adopted. He was adopted in the country in which he was habitually resident and as reflected in the adoption order she is holding, both the court and the Department of Social Development endorsed the adoption. So hearing from the Department of Home Affairs that the adoption should never have been granted and that his name change and unabridged birth certificate application would take about a year (if it happened at all) came as a bolt out of the blue.
The problem, it seems, is a simple one, Kate's son Jacob* was born to a mom from Lesotho who was residing and working in South Africa at the time of his birth and so, as the child of a foreigner, he was issued a handwritten birth certificate without an ID number. And even though, through his adoption to South African parents, Jacob is now legally a South African citizen, this lack of ID number has resulted in Home Affairs continuing to deem him "foreign"– hence, the reluctance to change his name or issue a new unabridged birth certificate reflecting his adoptive parent's details…
Best interests of the child, it seems, does not extend to those children unfortunate enough to be deemed foreign. Nor does it apply to South African children who have a foreign adoptive parent…[read more]