Lies, Damned Lies and statistics: Unravelling SA's child trafficking condundrum
Posted by Robyn in Child protection, News articles on 14 Aug, 2015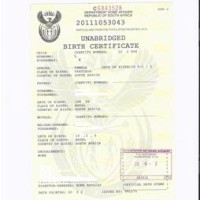 by Robyn Wolfson Vorster
In modern society there are few things as truly evil as human trafficking, especially when it involves children, and Home Affairs Minister Malusi Gigaba's argument for those afflicted by the scourge is compelling. But his supposed solution has once again been called into question along with the statistical basis for the plan. It begs the question that if the minister's strategy is really about solving South Africa's child trafficking problem why, in a style reminiscent of 'Saving Private Ryan', is he willing to risk the lives and livelihoods of many for the sake of the ones and twos. While it is difficult to ignore the fervour with which he speaks, it is equally difficult to avoid the sense that his department is playing an elaborate game of Top Trumps with stakes that are appallingly high. Beyond the oratory, what does the research say about how to prevent trafficking?
The announcement by Deputy President Cyril Ramphosa this week that he will lead an inter-ministerial committee that will investigate the negative effects of the country's stringent new visa regulations is a welcome admission that the plan, implemented under the guise of halting child trafficking, is deeply flawed.
It was more than 100 years ago that Mark Twain popularised the saying: "there are three types of lies: lies, damned lies and statistics." The quote dates back to a time when government could use numbers, good, bad or indifferent to "beguile" (Twain's word) the general populace into accepting policy.
That was a different era but even now in our Google-enabled world, the government knows there is something deeply soothing about a good solid statistic, especially when it is used in defence of a controversial or challenging scheme. Take, for example, Home Affairs director-general Mkuseli Apleni's briefing to Parliament a month before Home Affairs' controversial visa regulations were applied.
In his report, he claimed an estimated 30,000 children, 50% of whom are under 14, are trafficked through South Africa every year, and that the new regulations would protect those children from trafficking. While 30,000 is a number that is difficult to dispute, it appears to be one that is even harder to defend. Most recently and most alarmingly, it was publicly queried by a fellow cabinet minister.