Our "Heart Mama" story
Posted by Robyn in Articles on adoption on 05 Jan, 2015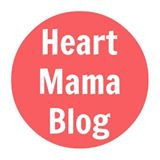 Our story as told on the Heart Mama Blog on 5th December 2014.
Tell us a bit about your family.
This year marks the 21st anniversary of the year when Neil and I first met.  We were friends for years before we finally surprised ourselves by falling in love.  We've now been married for 13 years and run a chaotic household in our leafy suburb in Johannesburg consisting of two twenty somethings (Neil's daughters from his first marriage who call our house home), our seven year old son Luke, our two year old daughter Asha, three cats, six fish and every wild bird, insect or snail that my compassionate children can find to care for.
Did you always know that you wanted to adopt? ile
Sadly no, we had a long painful journey through infertility treatment before we came to adoption.  My husband had had a vasectomy while married to his first wife so we always knew that we would struggle to have children.  My son was conceived miraculously through our first attempt at IVF (he was our only surviving embryo) but when we went back to try to have another child, we had failure after failure (four in total) before we finally gave up.  At the time, Neil wasn't open to adoption and was quite content with our family.  His decision to adopt marked a profound heart transformation that initially came from recognising how desperate I was for a daughter, and then feeling a bit of God's heart for orphans.  Looking back I realise that we needed the journey. But, we do sometimes wonder what took us so long because when we finally decided to adopt, it was the best decision that we have ever made.
Read the full article here.