Sounding the death knell for adoption
Posted by Robyn in Articles on adoption, News articles on 07 Jul, 2017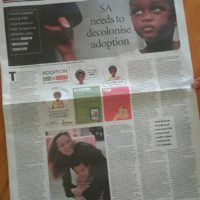 Robyn Wolfson Vorster
The 2016 World Adoption Day celebrations are proving muted, overshadowed by the election soap opera in America, and here at home by the crushing disclosure that there were only 1,165 adoptions last year. In a country with 3-million orphans and tens of thousands of crisis pregnancies annually, adoptions have stuttered and, in some cases, stopped. While reported reasons range from fear of child trafficking to bureaucratic sabotage, most agree that in child protection, the gap between what is legislated and what is achievable is widening. So, how will the government and adoption community respond to the crisis?
World Adoption Day was postponed this year. Unable to compete with the madness of the US presidential elections, its belated arrival is proof that adoption and politics make uneasy bedfellows.
Not that we needed any. Here in South Africa, the day was preceded by the Department of Social Development's muted yet devastating revelation that only 1,165 adoptions occurred last year, a 30% decline from 2014. Revelation may even be a stretch – the figure was buried in a slide in a presentation that the Director of Adoptions made at a joint National Adoption Coalition (NACSA) and Department of Social Development conference. You had to look for it.
At the same conference, the Children's Institute confirmed that South Africa has 3-million orphans, of which up to 1.2-million maternal and double orphans could benefit from adoption; not to mention untold numbers of crisis pregnancies where abortion or maternal care are not an option. And yet, the consensus is that adoption in South Africa is challenging, and that in some provinces, it has almost ground to a halt. This is confirmed by the tiny number of adoptions, which alarmingly may even be overstated. Professor Julia Sloth-Nielsen, senior law professor at the University of the Western Cape, suggested that if the figure had been disaggregated (it wasn't), up to 80% of those adoptions would be step-parent adoptions. It amounts to a handful of inter-country adoptions and an equally tiny number of non-family national adoptions. As a child protection strategy, adoption may already be staring into the abyss.
At the same time, it is on the cusp of an important change to practice. With the Children's Second Amendment Bill nearing finalisation, Department of Social Development social workers will soon be able to perform adoptions. This, along with a strategically timed revision to the rates that private and agency-based adoption social workers are permitted to charge for adoptions, could eventuate in adoptions becoming the monopoly of already overburdened and, in some cases, somewhat sceptical government social workers. Small wonder that the state of adoptions feels like a threat to some. But it might also be an opportunity to address why adoption is so challenging and highly contested, and to reinsert it as an integral part of the country's child protection strategy.
It isn't news that adopting in South Africa is hard – the word most commonly used to describe the process. Even impartial observers employ it, usually by way of the frequently asked question: "Given how many South African children are in need, why is adoption so hard?" The answer is that it is intentionally difficult, but not for the reason people imagine: it isn't to prevent paedophiles from adopting or to stop our children being trafficked; at least, not entirely.
The South African public has undoubtedly internalised the trafficking vindication, which isn't surprising – it is the dominant script being read by the government. Along with abuse, is the most "legitimate" reason for making adoption hard. And to some degree it is true. The screening process is deliberately and rightly challenging to weed out those with malicious intent. The argument breaks down however when we consider that the most difficult part of adoption is not the screening prior to placement, but the legal steps to finalise the adoption. These occur after the child has been placed in our care. Even if the court or government halted the adoption at this point, the child could already have suffered harm.
The abuse and trafficking explanation is certainly plausible, but it is a red herring. It masks a deeper, more painful reason for the hesitant progress of adoption and in so doing prevents us from addressing it. Adoption is hard because, as with many things in South Africa, there is a gaping chasm between what is legislated and what we as individuals (and even as institutions) have the appetite to implement; it is hard because while adoption may be necessary, for some it is an incongruous and even negative form of child protection…[read more]