Ubuntu and the debate over child protection
Posted by Robyn in Child protection, News articles on 26 Oct, 2015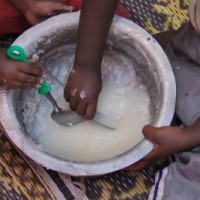 by Robyn Wolfson Vorster
Recent public comment days for the Children's Amendment Bills brought a stark reminder that many sectors of government still believe that ubuntu is the panacea for all of our orphans' ills. Ubuntu, by definition, is about our humanity to others. In the context of child protection, it is epitomised by community-based care and the principle that no child is left behind. But, the argument for kinship care to the exclusion of all other policies breaks down when we recognise two important things: firstly, ubuntu has been marred by poverty, HIV/AIDS, urbanisation and the decimation of the family; and secondly, that recognising this, the government has been financially incentivising the practice for years.
For anyone willing to wade through multiple hours of mind-numbing audio, the public hearings held by the government portfolio committee tasked with assessing the Children's Amendment Bills make for fascinating listening. They provide insight into why South Africa's approach to caring for orphaned and vulnerable children is so contested — and at times fraught — and an appreciation of the challenges involved in hammering out an agreed solution to some of the country's greatest child protection problems.  Given the rather tense build-up to the hearings, it is not surprising that there was some debate about specialisation (if it is needed, and how the government will be able to manage it impartially if the need is upheld), finance (why funding has not been forthcoming for child protection despite provisions in the Act, and if adoption social workers are profiting from adoption), and the current glacial pace of the adoption process. Despite this, the overall spirit of the proceedings was one of cautious optimism (perhaps as much an acknowledgement of the stakes, as a belief in an eventual meeting of minds).
To some extent, the optimism seems warranted. For one thing, the meetings brought a significant undertaking from the Department of Social Development that it will indeed require specialisation from its practitioners, along with an equally important injunction from the committee compelling the department to report on the cost and resource implications of the amendment. But, while there is no questioning the willingness to work together and the positive response to many of the presentations, the sessions also show some noteworthy and possibly intractable differences in philosophy between the non-governmental organisations (NGOs) and the government. If these aren't addressed, they may inadvertently sabotage any attempts to find common ground.
… [read more]