All they want for Christmas is a family
Posted by Robyn in Articles on adoption on 18 Jan, 2017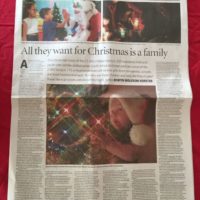 This Christmas many of the 21,000 children living in
355 registered Child and Youth Care Centres
dotted across South Africa (and even perhaps some of the 2,000 living in 115 unregistered ones) will receive gifts from companies, schools and kind-hearted strangers. But who are these children and why are they in care this Christmas? Behind the statistics are little lives changed by poverty, death, abandonment and neglect. These five true stories provide some insight.
It's Christmas, a time for giving, and a time for children. Across South Africa, the Christmas trees at Child and Youth Care Centres (which, despite the vanilla name, range from nurturing home-based care to old-school institutions reminiscent of Oliver Twist or Annie), are bulging with presents for children in care.
But strict confidentiality laws mean that we are seldom able to find out who these children are, or why they are in care this Christmas.
Conventional wisdom says that they are orphans (after all, we have 3-million of those); and many are. But UNICEF has indicated that almost 60% of the children in care are the vulnerable children listed on Part A of South Africa's Child Protection Register (a register that, while incomplete, already includes 34,500 children who were either abandoned, neglected or removed from their families due to abuse ). Today we get to meet five of these children – perhaps one of them received a Christmas gift from you.
We find Themba* in the garden at his Child and Youth Care Centre. A shy and sweet child, he is happiest outdoors, so the football he was given as a Christmas gift is the best present possible. Themba is an orphan, but not a stereotypical one – his father is still alive. Instead, he is one of over half a million maternal orphans in South Africa who are so classified because UNICEF considers them to be particularly vulnerable. He can't remember his mother; she passed away when he was only six months old. He also can't remember a time before the home.
His father brought him here just after his mother died. The last thing his father did was sign consent for Themba to be adopted. He has not seen him since, or any other members of the family. At first, there was talk of adoption. His social worker must have looked for a while. But as he grew older, his file sunk deeper and deeper into her pile of open cases. Eventually, she probably filed it away, believing (not without evidence) that an HIV+ boy over the age of three would never find a family.
That was seven years ago, and this will be his 10th Christmas in the home. Although a "lifer" in the institution, he isn't neglected. The caregivers are strict but kind, just overworked and under-resourced. As one of the oldest of 45 children in their care, he worked out quickly that the younger, more demanding children got the most attention. It is why he spends his days outside.
It is supper time and the children pile indoors. Themba carefully places his treasured football on a makeshift shelf at the end of his bed. After bedtime prayers, we ask what he wants for Christmas. He smiles – all he wants is a sunny day so he can play with his ball and that the little ones won't pop it (at least not yet).
If he ever thought about a family, he doesn't any more… [Read more]