World Adoption Day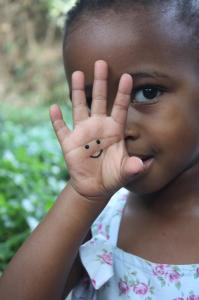 It's World Adoption Day, how are you going to celebrate?
Today, the 15th November 2016 marks the third World Adoption Day, a day designed to celebrate adoption and adoptive families.  All over the world families are posting pictures of themselves on social media with a smiley on their hand. Why? Simply because no matter how tragically a child's story begins, adoption brings new hope. Whether you are an adoptive family or not, you can join us: grab a pen, draw a smiley and post a photo too.
And, here are a few more ideas about how you can celebrate:
Think about adoption
Even if adoption has never been on the agenda before for your family, today is a day to think about it. Ask yourself these questions:
Is adoption something that you might consider?
Talk about adoption
To everyone.  Most of our children are now exposed to adoptive families and they may have loads of unanswered questions.  Today is a great opportunity to talk about what it means to be adopted, why children need adoptive families and how they should talk to friends who are adopted.
In addition, anecdotal evidence seems to suggest that children who are exposed to positive adoption stories when they are children are more likely to consider growing their families through adoption when they are adults.
Also remember that the reality in South Africa is that there are millions of unparented children who need families.  The situation is tragic so even if you are not in a position to adopt, it is probably not something that you should ignore.
Get involved
If you are not able to adopt (and even if you are), consider helping those who take care of orphans.  Today is a great day to find a local Place of Safety or orphanage in need of aid, discover what they require and offer to donate goods, money or time to help them (involve your children if you can, they will love being able to assist and it will give them a new perspective on their own lives and how privileged they really are).
Finally, if you are an adoptive family, tell your story
If you are an adoptive family, wherever you happen to be on the day, tell your story.  Be it with family, friends, at your place of worship, your sports club, the gym or the mall, today is a good day to talk about adoption and what it means to you.  Tell what you feel comfortable telling, tell it formally or informally but however you do it, use today to celebrate your own adoptive family and, if you are willing, share your journey to inspire and help others.
How can you find out more?
If you need any assistance with getting involved or finding out about more about how to adopt, see How to adopt in South Africa or www.adoption.org.za or send me a message on the contact us page and I will do my best to point you in the right direction.
Time to celebrate
Happy World Adoption Day everyone, show off your smiley :), enjoy the day and here is to many many more!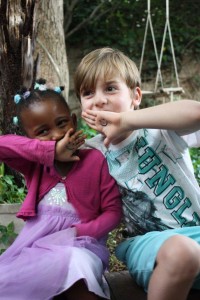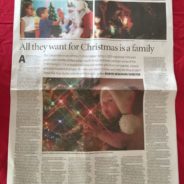 This Christmas many of the 21,000 children living in 355 registered Child and Youth Care Centres dotted across South Africa (and even perhaps some of the 2,000 living in 115 unregistered ones) will receive gifts from companies, schools and kind-hearted strangers. But who are these children and why are they in care this Christmas? Behind the statistics are little lives changed by poverty, death, abandonment and neglect. These five true stories provide some insight. It's Christmas, a time for giving, and a time for children. Across South Africa, the Christmas trees at Child and Youth Care Centres (which, despite the vanilla name, range from nurturing home-based care to old-school institutions reminiscent of Oliver Twist or Annie), are bulging with presents for children in care. But strict confidentiality laws mean that we are seldom able to find out who these children are, or why they are in care this Christmas. Conventional wisdom says that they are orphans (after all, we have 3-million of those); and many are. But UNICEF has indicated that almost 60% of the children in care are the vulnerable children listed on Part A of South Africa's Child Protection Register (a register that, while incomplete, already includes 34,500 children who were either abandoned, neglected or removed from their families due to abuse ). Today we get to meet five of these children – perhaps one of them received a Christmas gift from you. We find Themba* in the garden at his Child and Youth Care Centre. A shy and sweet child, he is happiest outdoors, so the football he was given as a Christmas gift is the best present possible. Themba is an orphan, but not a stereotypical one – his father is still alive. Instead, he is one of over half a million maternal orphans in South Africa who are so classified because UNICEF considers them to be particularly vulnerable. He can't remember his mother; she passed away when he was only six months old. He also can't remember a time before the home. His father brought him here just after his mother died. The last thing his father did was sign consent for Themba to be adopted. He has not seen him since, or any other members of the family. At first, there was talk of adoption. His social worker must have looked for a while. But as he grew older, his file sunk deeper and deeper into her pile of open cases. Eventually, she probably filed it away, believing (not without evidence) that an HIV+ boy over the age of three would never find a family. That was seven years ago, and this will be his 10th Christmas in the home. Although a "lifer" in the institution, he isn't neglected. The caregivers are strict but kind, just overworked and under-resourced. As one of the oldest of 45 children in their care, he worked out quickly that the younger, more demanding children got the most attention. It is why he spends his days outside. It is supper time and the children pile indoors. Themba carefully places his treasured football on a makeshift shelf at the end of his bed. After bedtime prayers, we ask what he wants for Christmas. He smiles – all he wants is a sunny day so he can play with his...
read more