World Adoption Day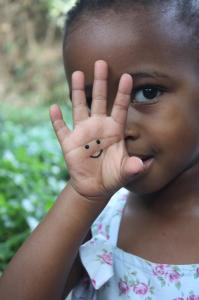 It's World Adoption Day, how are you going to celebrate?
Today, the 15th November 2016 marks the third World Adoption Day, a day designed to celebrate adoption and adoptive families.  All over the world families are posting pictures of themselves on social media with a smiley on their hand. Why? Simply because no matter how tragically a child's story begins, adoption brings new hope. Whether you are an adoptive family or not, you can join us: grab a pen, draw a smiley and post a photo too.
And, here are a few more ideas about how you can celebrate:
Think about adoption
Even if adoption has never been on the agenda before for your family, today is a day to think about it. Ask yourself these questions:
Is adoption something that you might consider?
Talk about adoption
To everyone.  Most of our children are now exposed to adoptive families and they may have loads of unanswered questions.  Today is a great opportunity to talk about what it means to be adopted, why children need adoptive families and how they should talk to friends who are adopted.
In addition, anecdotal evidence seems to suggest that children who are exposed to positive adoption stories when they are children are more likely to consider growing their families through adoption when they are adults.
Also remember that the reality in South Africa is that there are millions of unparented children who need families.  The situation is tragic so even if you are not in a position to adopt, it is probably not something that you should ignore.
Get involved
If you are not able to adopt (and even if you are), consider helping those who take care of orphans.  Today is a great day to find a local Place of Safety or orphanage in need of aid, discover what they require and offer to donate goods, money or time to help them (involve your children if you can, they will love being able to assist and it will give them a new perspective on their own lives and how privileged they really are).
Finally, if you are an adoptive family, tell your story
If you are an adoptive family, wherever you happen to be on the day, tell your story.  Be it with family, friends, at your place of worship, your sports club, the gym or the mall, today is a good day to talk about adoption and what it means to you.  Tell what you feel comfortable telling, tell it formally or informally but however you do it, use today to celebrate your own adoptive family and, if you are willing, share your journey to inspire and help others.
How can you find out more?
If you need any assistance with getting involved or finding out about more about how to adopt, see How to adopt in South Africa or www.adoption.org.za or send me a message on the contact us page and I will do my best to point you in the right direction.
Time to celebrate
Happy World Adoption Day everyone, show off your smiley :), enjoy the day and here is to many many more!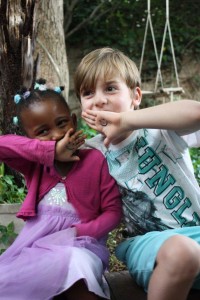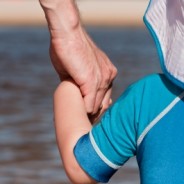 Why some men struggle with adoption by Robyn Wolfson Vorster People talk to me now. It may sound odd, but since we adopted our daughter loads of strangers suddenly want to chat. The conversation varies but when I am speaking to women, one theme seems to come up over and over again. They chat animatedly for a bit and finally pause and say sadly: "I'd love to adopt but my husband isn't keen." Every story is heart-wrenching and individual but there are so many stories that one has to ask: Why? Why are so many men reluctant to adopt? This is personal for me—my own husband struggled for years to accept the idea of adopting. His eventual change of heart transformed our lives but it did not occur until we faced some of his fears and concerns together. More than two years later, we are now doing our best to understand these issues in other families. Of course these vary from person to person but interestingly, many men seem to share the same reasons for not wanting to adopt. As an aside, some women struggle with exactly the same misgivings but they don't seem to be as common or as debilitating as those expressed by men. The top three concerns seem to be: Fear Family Finance Reason one: Fear Some of the most prevalent fears that men communicate are: Fear of not being able to love an adopted child as much as a biological child. Fear about how his family, friends and colleagues will react, and how he will cope with these responses. Some men find this very difficult to navigate, especially when they come from traditional families and it is influential family members (such as parents), who may object most to the adoption. Fear of other people's prejudices. This is particularly true when considering trans-racial adoption. Many men really struggle with the fear that they might not be able to protect their child from harm. Fear of the unknown. Even if they haven't had children, most men believe that they know what to expect from parenting a biological child. Adoption however, is unfamiliar and brings with it a large amount of fear.  Reason two: Family In many families, family line, name and genetic heritage are fundamentally important. While I was researching this topic, one of the things that I heard men say frequently was: "I would never raise another man's child." Be it anxiety about bringing new blood into the family, pride in family characteristics and abilities or a threat to his own masculinity, this seems to be a deep seated concern for a lot of men. Reason three: Finances Raising children, be they biological or adopted, is always costly. However, finance may specifically be a factor in an adoption decision when: The couple would probably want to employ a private social worker or to adopt a child from another country (this often applies to white, coloured and Indian families trying to find a same race child). They already have children but one parent would like to add an adopted child to the family. Both these decisions could bring financial stress and if finance is an issue in a household, this may result in resistance from the male partner. What can you do? So, are these issues insurmountable? Well, perhaps....
read more